Russian Duma to introduce fast-track Russian citizenship and green card lottery
Some people have been asking me for more information on Russian citizenship and green card (aka, permanent residency) application process. You may recall I wrote about this last year as Russia first announced the simplified Russian citizenship for those born in Russia or whose ancestors were born and lived on the territory of Russia: Russia Adopts Simplified New Citizenship Law.
The political and societal pressure has been tremendous to introduce simplified fast-track citizenship process for millions that are now awaiting their turn. A bottleneck of applicants has formed. Hundreds of thousands are applying from the West and millions more from Ukraine and post-Soviet space. This often happens to countries whose life force is on the rise, as is the case in Russia, per my predictions. Read: Mass Migration: What Happens if a Country Gains or Loses its Life Force?
Russian government is always extremely careful to give out citizenships to so many new people. I am with all those Russian politicians and personalities who urge the government to extend simplified citizenship requirements to more people, including all those who were born of the entire territory of the former USSR and/or Russian Empire. Presently, it only applies to those who can claim heritage on today's territory and within the borders of the Russian Federation. This may exclude some people who are ethnically Russian, or definitely consider themselves Russian, regardless of ethnicity, but whose ancestors may have not lived on today's territory of RF, but rather in Kiev/Malorossia, Novorossia, Lithuania or Belarus. Of course, the difficulty is that if citizenships are issued more freely to those who are from other parts of the post-Soviet space, there is a heightened risk of subversive element infiltration from Western Ukraine, Baltics and Central Asia. Therefore, extreme caution is justified.
Still, this is a big leap forward.
This breaking news is from RT. (Thanks to FT contributor Stanislav Sokolov/ Nemo for the link):
The Russian parliament is set to consider a new bill that would fast-track naturalization for people born in Russia or whose ancestors were born within the current borders of the Russian Federation.
The bill was prepared by several lawmakers from the majority party United Russia, including the head of the Lower House Committee for Eurasian Integration and Ties with Compatriots, Konstantin Zatulin, and former chief prosecutor of Crimea Natalia Poklonskaya.
In its current draft, the bill introduces changes to federal laws on citizenship and the legal status of foreign citizens, and allows people born in Russia and those who have ancestors born within the current borders to receive residence permits without having to provide documents proving they have given up their previous citizenship. The current law allows this only for those whose ancestors permanently lived within the current borders.
The sponsors of the bill said that it had been developed in accordance with a decree issued by President Vladimir Putin in late 2012. Back then, Putin ordered lawmakers to develop and pass laws that would enable citizenship to be granted faster to people of Russian heritage who want to renounce their current citizenship and move to Russia, including descendants of citizens of the Soviet Union and the Russian Empire.
In recent years, several bills have been in the works on simplifying the rules for granting citizenship to certain groups, in particular investors and people of Russian heritage – those who speak Russian, and have at least one ancestor who was a permanent resident of any area within the current borders of the Russian Federation.
In one of the latest proposals, MP Konstantin Zatulin (United Russia) proposed granting Russian citizenship to children with one Russian parent without the consent of their foreign parent, saying it would increase the legal protection of Russian citizens who live abroad.
Also, in late 2016, the legislature of St. Petersburg prepared a bill that would allow the government to issue residence permits as prizes in a free lottery for foreign citizens, much like the 'green card lottery' held annually by the US.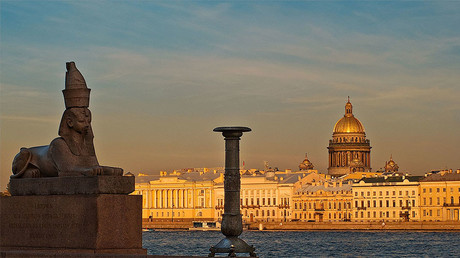 ADDED INFO:
1EarthUnited | March 12, 2017 It's good that the Russian Government is rewarding loyalty and support by repatriation of former soviet citizens in a timely manner. As the world shifts toward nationalism (in a good way), why not attract the best ppl?  Also, Russia implementing new policy: Quietly Strips Emigres of Dual Citizenship. Read more: http://forward.com/news/world/342136/russia-quietly-strips-emigres-of-dual-citizenship/
Lada Ray | March 12, 2017 Very smart. Just lately, Russians finally started doing something to ensure loyalty and commitment, and they are right. As a left over from Yeltsin's era, previously, the rules for holding Russian passport were too lax. Russia doesn't want to sell their citizenship off to the highest bidder, as some other countries are doing. Another thing: this way you know who your real friend is. Many who hold dual and triple citizenships are oligarchs and the rich. With this class of people there are always shadow globalist interests involved. Also, this hits directly some of those who emigrated in the 1990s – 2000s to Israel, US and West in general, and who retain dual citizenship just in case. There are also some notorious and clear enemies of Russia, who reside permanently in the West and hold Russian citizenship to travel back freely, while being openly Russophobic, and possibly spies to boot. I've met such people.
Read related: 
Mass Migration: What Happens if a Country Gains or Loses its Life Force? (US, EU, Russia, China, Ukraine, Syria)
SPIRITUAL GEOPOLITICS: A merger between Geopolitics & Multi-Dimensional Consciousness
Breaking News: Russia Adopts Simplified New Citizenship Law
DPR ultimatum to oligarchs: Pay taxes or nationalization. Russia recognizes LDPR passports; to introduce visa regime for Ukraine
ANNOUNCEMENTS!
NEW FORBIDDEN HISTORY REPORT COMING THIS MONDAY! On Monday Lada will publish her new FREE report on the highly requested theme of Forbidden History. It will continue the hot topic raised in one of the eternally popular FT articles Forbidden History: Are Scandinavians Slavs? Stay tuned!
RE COMMENTS! The comments have been turned off for a few days, but now they are back online. Please leave comments responsibly and according to BLOG RULES. Any trolling, frivolous or off-topic comments will be deleted. Trolls or shills, as always, will be banned without second glance. Comment section on FT is reserved as a forum for relevant on-topic discussion and support of Lada Ray and her work. FT Comment section is NOT an external link bank; therefore, links will be published only when they are highly relevant to the subject at hand and only from approved by Lada Ray and her moderator Az reputable sources. We do not guarantee your link and/or your comment containing such link, will be published. Exceptions are the official FT Contributors (Stanislav/Nemo, 1EarthUnited/Maddie, Kauilapele/KP, Masaki/Akaida1) as well as our recommended sources (RT, News Front, Official President of Russia Site, and a few others listed in RESOURCES), whose links are allowed. When in doubt, don't include a link with your comment. We always welcome on-topic discussion and supportive, positive comments!
 ******
Posted on March 12, 2017, in Ask Lada, Lada Ray, Russia and tagged Duma, green card lottery, Lada Ray, life force, multidimensional world, naturalization, RF, RT, Russia, Russian citizenship, Russian empire, security, Spiritual Geopolitics, USSR, Vladimir Putin. Bookmark the permalink. 9 Comments.